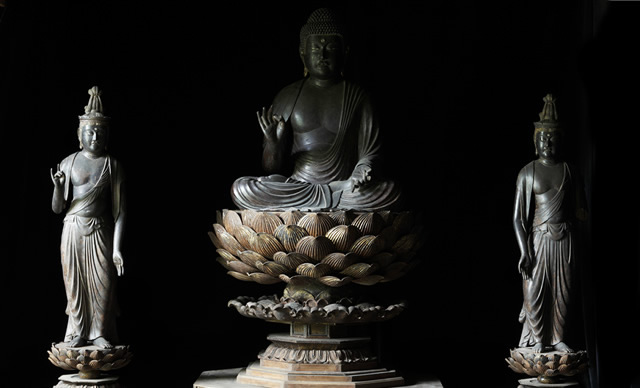 Height of central statue 89.1cm Height of lotus stand84.7cm
Exquisitely carved from a single Japanese cypress tree(Chamaycyparis obtusa), with brawny and realistic features, this work is typical of the lively style of Kei School sculptures from the beginning of the Kamakura period. The work of the Buddhist sculptor Jikkei from Kei School of Japanese Buddhist sculpture in Nara, this Amida Raigō Triad is noted for its similarity in appearance and form to works produced by the great Buddhist sculptor Unkei. The lotus base, on which the Amida Nyorai is sitting, with its impressive shape, powerful design, and intricate detail, is also widely admired as an example of work characteristic of the early Kamakura period.

Kei School of Buddhist Sculpture and Jikkei,
A sculptor Who Made the Amida Raigō Triad
Jikkei was a Buddhist sculptor of Kei School of sculpture who were based at the Kofukuji Temple in Nara. Jikkei worked on the Amida Raigō Triad towards the end of the Kenkyū era (1190 - 1998) and completed a Dainichi Buddha at Shūzenji Temple in 1210, the 4th year of the Jōgen era. Given the period of these works, it is assumed that Jikkei was working in the Kantō region and was creating statues to meet the demand
Kei School of Buddhist sculpture originated in the fact that there were so many sculptors with 慶 ('kei') in their names, including the highly acclaimed father and son, Kōkei and Unkei. Jikkei was one of Kōkei's disciples and he is thought to have been with Kei School around the same time as Unkei. Two of the most well-known sculptors of Kei School are Unkei, known for his distinct technique and brawny style, and Kaikei, whose sculptures are both picturesque and refined.
'Great Buddhist Sculptor Jikkei' is inscribed in black ink on the back of the neck of the Amida Nyorai statue and 'Buddhist Sculptor Jikkei' on the inside of the heads of the Kannon and Seishi Bosatsu statues.
While many of his major statues were located in the Kinki (Kansai) region, several of Unkei's works can be found in the Kanto, or Tokyo region.